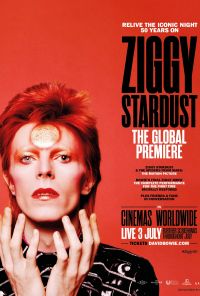 Ziggy Stardust: The Global Premiere
Monday 3rd July screening will feature a bonus 45 mins live footage before the feature film.

July 3, 1973 - David Bowie retired Ziggy Stardust, his most celebrated alter-ego, in front of 5000 disbelieving fans onstage at London's Hammersmith Odeon. 50 years to that day, Ziggy will return to that same stage for one night only...

July 3, 2023 - The Eventim Apollo Hammersmith (formerly the Odeon) will host the global premiere of the newly restored version of 'Ziggy Stardust and The Spiders From Mars: The Motion Picture' with the film also being shown in 1000+ cinemas worldwide during the month of July.

The Eventim Apollo Hammersmith will host a red-carpet premiere, including an exclusive on-stage conversation with Bowie collaborators and contemporary musicians that will precede the film screening. They will address the original show's legacy and Ziggy's pan-generational resonance.

While Bowie's decision to retire his beloved extra-terrestrial rockstar persona and to dissolve The Spiders From Mars was a shock to fans (and to the band as well!), it was a pivotal moment in securing his future. Moving past Ziggy was a crucial early step on Bowie's journey to becoming the restless, inquisitive and shape-shifting artist that would have unparalleled influence on music, film, fashion and beyond. In addition to providing the template for '70s glam rock, the impact of Ziggy Stardust's brief existence remains widespread across popular culture, having inspired artistic and ideological freedoms that are still being enjoyed by musicians and the wider creative community today.

The band's performance on July 3, 1973, was captured on film by award-winning director DA Pennebaker (famed for Dylan's classic '67 doc, Don't Look Back) and released under the title of Ziggy Stardust And The Spiders From Mars: The Motion Picture.

A new version of the film is now ready to be screened to celebrate the 50th anniversary of one of Bowie's bravest and most celebrated moments.

The new version of the film features:
The full uncut performance featuring seldom seen scenes with the legendary guitar player Jeff Beck not included on previous DVD and soundtrack releases, including his high-octane performance on Bowie's anthemic 1972 hit, The Jean Genie
A fully restored, 4K visual mix overseen by DA Pennebaker's son, Frazer, and Chris Hegedus
A 5.1 mix undertaken by producer Tony Visconti
An extended running time of one hour and 42 minutes
A film that focuses on the adoration of Bowie fans and which captures David onstage and in his dressing room prior to the show, this anniversary edition of Ziggy Stardust And The Spiders From Mars: The Motion Picture is the closest audiences will come to being there on that unforgettable night 50 years ago.