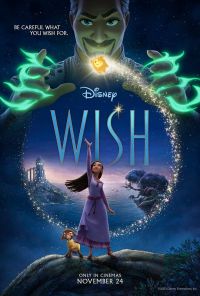 Wish
Rated U
95 mins 2D Digital Adventure Adults £8.00 Concessions £7.00 Evening £9.00
Synopsis
Walt Disney Animation Studios' "Wish" is an all-new musical-comedy welcoming audiences to the magical kingdom of Rosas, where Asha, a sharp-witted idealist, makes a wish so powerful that it is answered by a cosmic force—a little ball of boundless energy called Star. Together, Asha and Star confront a most formidable foe—the ruler of Rosas, King Magnifico—to save her community and prove that when the will of one courageous human connects with the magic of the stars, wondrous things can happen.
Content Advisory: mild fantasy threat, very mild rude humour, language
First UK Showing: 24th November 2023
If you wish to book a movie deal for this film, please do not book online, but call us on 015394 33845.