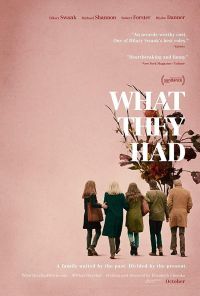 What They Had
Rated 15
101 mins 2D Digital Drama Adults £8.00 Evening £9.00
Synopsis
A woman must fly back to her hometown when her Alzheimer's-stricken mother wanders into a blizzard. The return home forces her to confront her past.
Content Advisory: Strong language
First UK Showing: 1st March 2019
If you wish to book a movie deal for this film, please do not book online, but call us on 015394 33845.