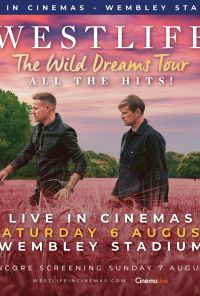 Westlife - Live From Wembley Stadium
The UK's biggest-selling album group of the 21st century, Westlife will be broadcasting their first-ever show from Wembley Stadium, live to cinemas on Saturday 6 August. In front of a sold-out Wembley Stadium, this spectacular show is going to be their biggest and most historic show yet!

With 20 years of hits, a staggering 14 number one UK singles and selling over 55 million records worldwide, Westlife will deliver an unmissable night for fans. Performing all of their hits from their highly anticipated Wild Dreams tour, including 'Uptown Girl', 'Flying Without Wings', 'You Raise Me Up' and 'If I Let You Go'.

Irish heart-throbs Shane, Nicky, Mark and Kian invite fans everywhere to come together in their local cinema and share in this unforgettable live experience, up close and personal.