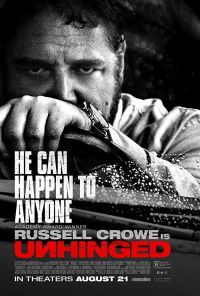 Unhinged
Rated 15
93 mins 2D Digital Thriller Adults £8.00 Evening £9.00
Synopsis
Academy Award winner Russell Crowe stars in Unhinged, a psychological thriller that takes something we've all experienced- road rage - to an unpredictable and terrifying conclusion. Rachel (Caren Pistorius) is running late getting to work when she crosses paths with a stranger (Crowe) at a traffic light. Soon, Rachel finds herself and everyone she loves the target of a man who feels invisible and is looking to make one last mark upon the world by teaching her a series of deadly lessons. What follows is a dangerous game of cat and mouse that proves you never know who you're driving next to.
Content Advisory: strong threat, violence, language, bloody images
First UK Showing: 31st July 2020
If you wish to book a movie deal for this film, please do not book online, but call us on 015394 33845.