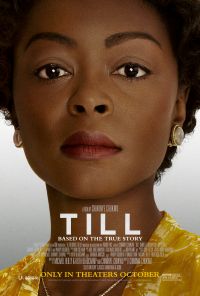 Till
Rated 12A
130 mins 2D Digital Biography Adults £8.00 Concessions £7.00 Evening £9.00
Synopsis
Directed by Chinonye Chukwu with a screenplay by Michael Reilly & Keith Beauchamp and Chukwu, Till tells the heartbreaking true story of the historic lynching of 14-year-old Emmett Till —for whistling at a white woman in Money, Mississippi in1955 —through the eyes of his mother Mamie Till-Mobley. This is what makes the film so compelling, it's told from the perspective and experience of a Black woman and is co-written and directed by a Black woman.

Mamie Till-Mobley is a widowed single mother who is the head of her household, the only Black woman working for the Air Force in Chicago. Till-Mobley becomes a revolutionary by insisting that the world witness the horror of her brutally maimed son's body in an open casket viewing as an act of defiance against oppression and hate. "I wanted the world to see what they did to my boy," she said at the time. Till-Mobley also gave the exclusive rights to Jet Magazine to publish the images of her son's maimed body which caused the lynching to gain worldwide noteriety. A mother's audacity became a lightning rod in the Civil Rights Movement and propelled her to reluctantly become an outspoken activist for the NAACP advocating for social justice and education.
Content Advisory: racism, disturbing images, upsetting scenes, moderate threat
First UK Showing: 6th January 2023
If you wish to book a movie deal for this film, please do not book online, but call us on 015394 33845.