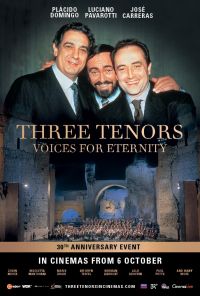 Three Tenors: Voices For Eternity
Celebrating the 30th Anniversary of The Three Tenors debut!
It's been 30 years since Luciano Pavarotti, José Carreras and Plácido Domingo made their historic debut as The Three Tenors at the ancient baths of Caracalla during the 1990 Football World Cup. A global audience of 1.6 billion people watched this groundbreaking concert - and it catapulted classical music into a completely new dimension, becoming the best selling classical album of all time.

Three Tenors: Voices for Eternity celebrates the emotional highlights of the first concert and the sequel in Los Angeles. With brand new interviews and never-before-seen backstage footage, the film offers a fascinating insight into the rivalries and friendships of the legendary opera stars from 1990 through to Pavarotti's passing in 2007.

As opera houses remain silent and football stadiums are empty of supporters, fans can relive the moment history was made by The Three Tenors in Rome 1990, and remember the night when the 'Beautiful game' and classical music crossed a cultural divide and changed the music industry forever.