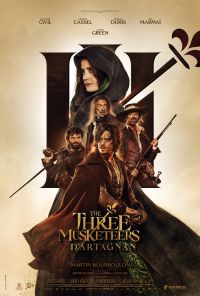 The Three Musketeers: D'artagnan
Rated 15
121 mins 2D Digital Drama Adults £8.00 Evening £9.00
Synopsis
This film is subtitled.

D'Artagnan, a spirited young man, is left for dead after trying to save a young woman from being kidnapped. When he arrives in Paris, he tries by all means to find his attackers. He is unaware that his quest will lead him to the heart of a real war where the future of France is at stake. Allied with Athos, Porthos and Aramis, three musketeers of the King with an audacious contempt for danger, D'Artagnan faces the dark machinations of the Cardinal of Richelieu. But it is when he falls madly in love with Constance Bonacieux, the Queen's confidante, that D'Artagnan truly puts himself in danger. For it is this passion that leads him into the wake of the one who becomes his mortal enemy: Milady de Winter.

The Three Musketeers: D'Artagnan, based on Alexandre Dumas' classic novel, is directed by Martin Bourboulon, starring François Civil, Vincent Cassel, Pio Marmaï, Romain Duris, and Eva Green.
If you wish to book a movie deal for this film, please do not book online, but call us on 015394 33845.