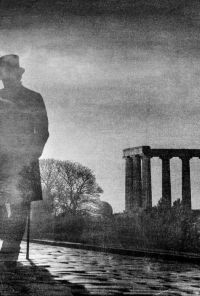 The Strange Case of Dr Jekyll & Mr Hyde
Within the century-old walls of historic Leith Theatre, something sinister is stirring. A gothic tale of double lives and inner demons, The Strange Case of Dr. Jekyll and Mr. Hyde takes on its own hybrid identity in this unique retelling.

Concerned by his good friend Dr. Henry Jekyll's recent behaviour, Gabriel Utterson is driven to uncover the identity of the mysterious and dangerous Mr. Hyde, to whom Jekyll is enthralled. Whilst on this search for the truth, Utterson finds himself seduced by the society of Edinburgh's rich and powerful, but beneath the glossy façade lies a grim and brutal reality.

A first for National Theatre of Scotland, this exciting and unique theatre/cinema production is captured live from Leith Theatre and broadcasted live into cinemas across the UK on the 27th February.