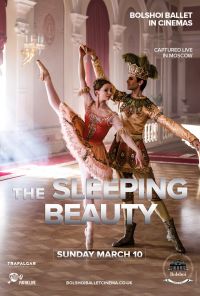 The Sleeping Beauty - Recorded at the Bolshoi
Sunday 10th March 2019 at 3.00pm

The Princess Aurora falls under the curse of the Evil Fairy Carabosse on her sixtenth birthday, falling into a deep slumber of one hundred years. Only the kiss of a prince could break the spell. A resplendent fairytale ballet perfomed by the Bolshoi, The Sleeping Beauty features scores of magical characters including fairies, the Little Red Riding Hood, Puss in Boots, and a beautiful young Princess Aurora performed by Olga Smirnova, a "truly extraordinary talent" (The Telegraph). This is classical ballet at its finest.

Cast : Olga Smirnova (Princess Aurora), Semyon Chudin (Prince Désiré), Alexei Loparevich (The Evil Fairy Carabosse), Yulia Stepanova (The Lilac Fairy), Vitaly Biktimirov (Catalabutte), Artemy Belyakov (Bluebird), Anastasia Denisova (Princess Florine)

Music Pyotr Ilyich Tchaikovsky
Choreography Yuri Grigorovich
Libretto after Ivan Vsevolojski and Marius Petipa

Captured live on Jan. 22, 2017

Call us on 015394 33845 to book a Movie Deal or book tickets only online!