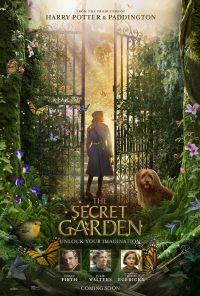 The Secret Garden
Rated PG
100 mins 2D Digital Drama Adults £8.00 Concessions £7.00 Evening £9.00
Synopsis
When 10-year old orphan Mary Lennox is sent from India to live with her reclusive uncle Archibald (Colin Firth) and his strict housekeeper Mrs Medlock (Julie Walters) in a mysterious Yorkshire manor, she feels more lonely than ever before.

But her curiosity and determination lead her to disobey the adults and explore the forbidding house. While roaming the grounds of the manor she discovers an enchanted and boundless garden that has been hidden for years and reflects her limitless imagination.

With local boy Dickon, her sick cousin Colin and a playful stray dog, she embraces this world of wonder which unlocks secrets from the past, revealing a whole new life of hope and friendship.
Content Advisory: Mild scary scenes, threat
First UK Showing: 23rd October 2020
If you wish to book a movie deal for this film, please do not book online, but call us on 015394 33845.