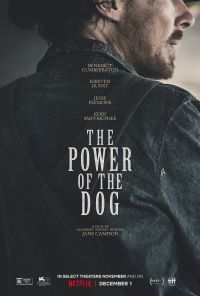 The Power of the Dog
Rated 12A
127 mins 2D Digital Drama Adults £8.00 Concessions £7.00 Evening £9.00
Synopsis
BAFTA winner for BEST FILM & DIRECTOR

Directed by Jane Campion. Starring Benedict Cumberbatch, Kirsten Dunst, Jesse Plemons and Kodi Smit-McPhee.

Charismatic rancher Phil Burbank inspires fear and awe in those around him. When his brother brings home a new wife and her son, Phil torments them until he finds himself exposed to the possibility of love.
Content Advisory: moderate injury detail, sex references, discrimination, language, threat
First UK Showing: 19th November 2021
If you wish to book a movie deal for this film, please do not book online, but call us on 015394 33845.