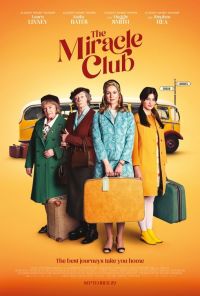 The Miracle Club
Rated 12A
90 mins 2D Digital Comedy Adults £8.00 Concessions £7.00 Evening £9.00
Synopsis
A 1968-set comedy-drama starring Oscar winners Maggie Smith and Kathy Bates, and Emmy & Golden Globe winner Laura Linney. THE MIRACLE CLUB is a truly joyous, uplifting, heartwarming and aspirational tale of working-class women from Dublin who embark on a pilgrimage to Lourdes in search of miracles.
Having never even left Dublin – let alone Ireland – the journey provides close friends Lily, Eileen and Dolly the chance to let their hair down, celebrate life and delight in some sweet independence. But it's not all just a 'jolly', it's also a chance to reflect on their own lives, with each of the women in search of their own personal miracles. But when they are joined by Chrissie, recently returned from a decades-long exile in the USA, deep wounds from the past are re-opened, and bitter truths exposed. As they confront one another and embrace their past, these women realise that the miracle they have all been looking for is right in front of them: in the strength of their friendships and unshakeable togetherness.
Content Advisory: infrequent implied strong language, references to abortion and suicide
First UK Showing: 13th October 2023
If you wish to book a movie deal for this film, please do not book online, but call us on 015394 33845.