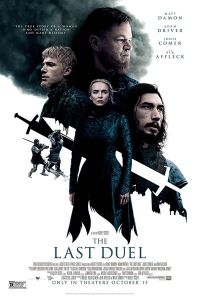 The Last Duel
Rated 18
153 mins 2D Digital Action Adults £8.00 Evening £9.00
Synopsis
From Twentieth Century Studios and visionary filmmaker Ridley Scott comes The Last Duel, a gripping tale of betrayal and vengeance set against the brutality and female oppression of 14th century France. The historical epic, which is based on actual events depicted in The Last Duel by Eric Jager, stars Oscar® winner Matt Damon and two-time Academy Award® nominee Adam Driver as quarreling lords, both of noble birth, whose grievances must be resolved in a duel to the death. The film, which also stars Oscar winner Ben Affleck and Emmy® winner Jodie Comer, is directed by four-time Academy Award nominee Ridley Scott from a screenplay by Ben Affleck, Matt Damon and Oscar nominee Nicole Holofcener. The Last Duel is produced by Scott, Kevin Walsh, Jennifer Fox and Holofcener with Damon, Affleck, Madison Ainley, Drew Vinton and Kevin Halloran serving as executive producers.
Content Advisory: sexual violence, strong bloody violence
First UK Showing: 15th October 2021
If you wish to book a movie deal for this film, please do not book online, but call us on 015394 33845.