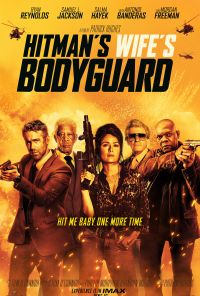 The Hitman's Wife's Bodyguard
Rated 15
100 mins 2D Digital Action Adults £8.00 Evening £9.00
Synopsis
The world's most lethal odd couple – bodyguard Michael Bryce (Ryan Reynolds) and hitman Darius Kincaid (Samuel L. Jackson) – are back on another life-threatening mission. Still unlicensed and under scrutiny, Bryce is forced into action by Darius's even more volatile wife, the infamous international con artist Sonia Kincaid (Salma Hayek). As Bryce is driven over the edge by his two most dangerous protectees, the trio gets in over their heads in a global plot and soon finds that they are all that stands between Europe and a vengeful and powerful madman (Antonio Banderas). Joining in the fun and deadly mayhem is Morgan Freeman as… well, you'll have to see.
Content Advisory: Very strong language, strong bloody violence, sex references. Please be aware that the film has been tested and confirmed to contain flashing images
First UK Showing: 14th June 2021
If you wish to book a movie deal for this film, please do not book online, but call us on 015394 33845.