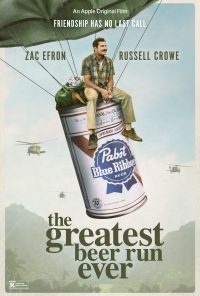 The Greatest Beer Run Ever
Rated 12A
127 mins 2D Digital Drama Adults £8.00 Concessions £7.00 Evening £9.00
Synopsis
To show support for his neighbourhood friends serving in Vietnam, Chickie Donohue (Zac Efron) decides to do something totally outrageous: travel to the frontline by himself to bring the soldiers a little piece of home — their favourite can of American beer. However, what started as a well-meaning journey quickly turns into the adventure of a lifetime as Chickie confronts the reality of this controversial war and his reunions with his childhood buddies thrust him into the complexities and responsibilities of adulthood. Based on an incredible true story, "The Greatest Beer Run Ever" is a heartfelt coming-of-age tale about friendship, loyalty and sacrifice.
Content Advisory: infrequent strong language, moderate violence, injury detail, drug misuse
First UK Showing: 30th September 2022
If you wish to book a movie deal for this film, please do not book online, but call us on 015394 33845.