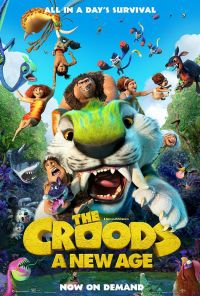 The Croods 2: A New Age
Rated U
96 mins 2D Digital Adventure Adults £8.00 Concessions £7.00 Evening £9.00
Synopsis
The Croods have survived their fair share of dangers and disasters, from fanged prehistoric beasts to watching their daughter get heart eyes over a new boyfriend. But now they face something that will shake their pack to its core and make them reconsider everything they hold true: another family. The Croods need a new place to live. So, the first prehistoric family sets off into the world in search of a safer place to call home. When they discover an idyllic walled-in paradise that meets all their needs, they think their problems are solved … except for one thing. Another family already lives there: the Bettermans. The Bettermans (emphasis on the "better")—with their elaborate tree house, amazing inventions and irrigated acres of fresh produce—are a couple of steps above the Croods on the evolutionary ladder. When they take the Croods in as the world's first houseguests, it isn't long before tensions reach a breaking point. Just when all seems lost, a new threat will propel both families on an epic adventure outside the safety of the wall, one that will force them to embrace their differences, draw strength from each other and forge a future together.
Content Advisory: very mild comic violence, threat, injury detail, rude humour
First UK Showing: 16th July 2021
If you wish to book a movie deal for this film, please do not book online, but call us on 015394 33845.