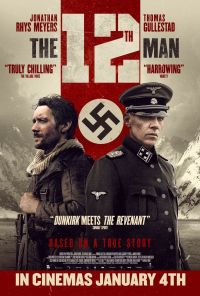 The 12th Man
Rated 15
136 mins 2D Digital Drama Adults £8.00 Evening £9.00
Synopsis
THE 12TH MAN is a breath-taking war thriller about an incredible true-life story of heroism and a man's unbreakable will to live.

Norway, 1943: after a failed anti-Nazi sabotage mission leaves his eleven comrades dead, Norwegian resistance fighter Jan Baalsrud (Thomas Gullestad) finds himself on the run from the Gestapo through the snowbound Arctic reaches of Scandinavia led by Captain Kurt Stage (Jonathan Rhys Meyers). It's a harrowing journey across unforgiving, frozen wilderness that will stretch on for months - and force Jan to take extreme action in order to survive.

The legendary story of Jan Baalsrud's escape remains one of the wildest, most unfathomable survival stories of World War II.
Content Advisory: strong violence, injury detail, threat
First UK Showing: 4th January 2019
If you wish to book a movie deal for this film, please do not book online, but call us on 015394 33845.