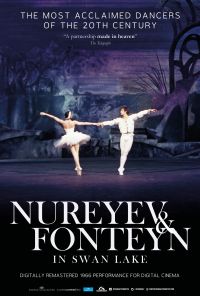 Swan Lake Legends
Friday, 19th July 2019 at 8.00pm

A never-before-seen high definition restoration of a historic Rudolf Nureyev and Margot Fonteyn 1966 performance of Swan Lake (Tchaikovsky) at the Vienna State Opera House. Choreographed by Rudolf Nureyev and conducted by John Lanchbery, with the Wiener Symphoniker orchestra. Nureyev and Fonteyn revolutionized the world of ballet by crossing the borders between classical ballet and modern dance. Hailed as the greatest ballet partnership of all time, Nureyev once said that they danced with "one body and one soul".

Call us on 015394 33845 to book a Movie Deal or book tickets only online!