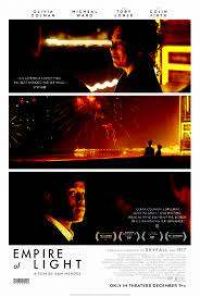 SUBTITLED SCREENING: Empire of Light
Rated 15
115 mins 2D Digital Drama Adults £8.00 Evening £9.00
Synopsis
THIS SCREENING IS SUBTITLED

From Academy Award®-winning director and writer Sam Mendes, EMPIRE OF LIGHT is an intimate and moving story about love, friendship, and connection, set in a coastal town in Southern England against the social turmoil of the early 1980s. Hilary (Olivia Colman), a woman with a difficult past and an uneasy present, is part of a makeshift family at the old Empire Cinema on the seafront. When Stephen (Micheal Ward) is hired to work in the cinema, the two find an unlikely attraction and discover the healing power of movies, music and community.
Content Advisory: racism, strong language, sex
First UK Showing: 9th January 2023
If you wish to book a movie deal for this film, please do not book online, but call us on 015394 33845.