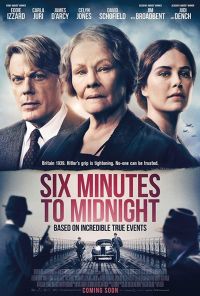 Six Minutes to Midnight
Rated 12A
99 mins 2D Digital Drama Adults £8.00 Concessions £7.00 Evening £9.00
Synopsis
Based on true events – Summer, 1939 and Thomas Miller (Eddie Izzard) has taken at the last minute a controversial role teaching English to the daughters of high-ranking Nazis at the Augusta-Victoria College, Bexhill-on-Sea – a finishing school on the south coast of England. Despite the storm clouds forming across Europe, the girls continue to learn deportment, Shakespeare, fitness, and how to be a faithful member of Hitler's League of German Girls.

Under the watchful eye of their headmistress Miss Rocholl (Judi Dench), and her devout assistant Ilse Keller (Carla Juri), the girls practice their English and learn how to represent the ideal of German womanhood. With a new world war imminent and a fog of resentment surrounding their presence, youth's summer is running out for the girls… for everyone.

When the body of a former teacher is discovered, it triggers a sequence of deadly events where the girls and Miss Rocholl discover a world where loyalty is more important than truth. It also leaves Thomas running from the police with the threat of being hanged for murder.

It is Six Minutes to Midnight and can Thomas exonerate himself in time and save the hearts and minds of his students from the grip of Hitler?
Content Advisory: Moderate violence, threat, bloody images
First UK Showing: 21st May 2021
If you wish to book a movie deal for this film, please do not book online, but call us on 015394 33845.