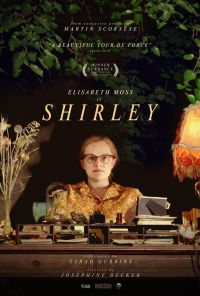 Shirley
Rated 15
107 mins 2D Digital Biography Adults £8.00 Evening £9.00
Synopsis
Set in the early 1950s, the film charts an imagined chapter in the life of Jackson, who has recently become a literary sensation. When her philandering professor husband (Michael Stuhlbarg) invites a newlywed couple into their home, the reclusive writer is forced to change her routine, which heightens tensions in their already tempestuous household. This change acts as a catalyst, sparking inspiration for the anxiety-prone writer. As she becomes enamoured with Rose, her unsuspecting new muse, Shirley's obsession plunges her into a quasi-delirium, awakening a repressed femininity that could inspire her next masterpiece.

From executive producer Martin Scorsese, and co-starring Odessa Young and Logan Lerman, this bewitching psychological drama is a portrait of an artist unravelling. Cleverly blending fiction and reality, Decker celebrates the rebelliousness of Jackson's art, as well as the undying power of the female voice in the face of patriarchal, mid-century America.
Content Advisory: strong bloody images, sex, language
First UK Showing: 30th October 2020
If you wish to book a movie deal for this film, please do not book online, but call us on 015394 33845.