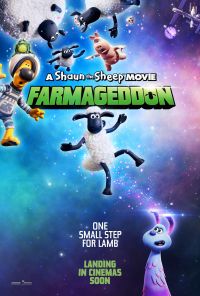 Shaun the Sheep Movie: Farmageddon
Not Rated
87 mins 2D Digital Adventure Adults £8.00 Evening £9.00
Synopsis
Shaun is back! And there's a new arrival in town who's a little alien...meet Lu-La. Watch the official trailer for A Shaun the Sheep Movie: Farmageddon – landing in UK cinemas October 18th.

Strange lights over the quiet town of Mossingham herald the arrival of a mystery visitor from far across the galaxy…

When the intergalactic visitor – an impish and adorable alien called LU-LA – crash-lands near Mossy Bottom Farm, Shaun soon sees an opportunity for alien-powered fun and adventure and sets off on a mission to shepherd LU-LA home.

Her magical alien powers, irrepressible mischief and galactic sized burps soon have the flock enchanted. Shaun takes his new extra-terrestrial friend on the road to Mossingham Forest to find her lost spaceship, unaware that a sinister alien-hunting agency is on their trail.

Can Shaun and the flock avert Farmageddon on Mossy Bottom Farm before it's too late?
Content Advisory: Very mild threat, language, rude humour
First UK Showing: 18th October 2019
If you wish to book a movie deal for this film, please do not book online, but call us on 015394 33845.