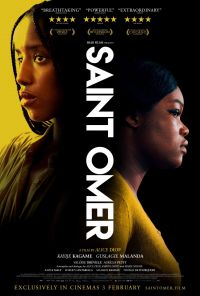 Saint Omer
Rated 12A
123 mins 2D Digital Drama Adults £8.00 Concessions £7.00 Evening £9.00
Synopsis
This film is subtitled

With SAINT OMER, acclaimed filmmaker Alice Diop delivers a riveting and utterly unmissable courtroom drama. The film follows novelist Rama who attends the trial of Laurence Coly, a young woman accused of killing her 15-month-old daughter. As the legal proceedings move forward, the words of the accused along with witness testimonies begin to shake Rama's convictions and call into question both her judgement and that of the viewer.
Content Advisory: upsetting scenes, sexual violence references, infrequent strong language
First UK Showing: 3rd February 2023
If you wish to book a movie deal for this film, please do not book online, but call us on 015394 33845.