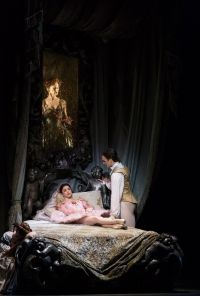 Royal Ballet 2019/20 Season: The Sleeping Beauty
Thursday, 29th January 2020 at 7.45pm

Approximate running time: about 3 hours

Choreography Marius Petipa
Music Pyotr Il'yich Tchaikovsky
Additional choreography Frederick Ashton, Anthony Dowell, Christopher Wheeldon
Production Monica Mason and Christopher Newton after Ninette de Valois and Nicholas Sergeyev
Original designs Oliver Messel
Additional designs Peter Farmer
Lighting designer Mark Jonathan
Conductor Simon Hewett

This production of The Sleeping Beauty has been delighting audiences in Covent Garden since 1946. A classic of Russian ballet, it established The Royal Ballet both in its new home after World War II and as a world - class company. Sixty years later, in 2006, the original staging was revived, returning Oliver Messel's wonderful designs and glittering costumes to the stage. Pyotr Il'yich Tchaikovsky's enchanting score and Marius Petipa's original choreography beautifully combine with sections created for The Royal Ballet by Frederick Ashton, Anthony Dowell and Christopher Wheeldon. This ballet is sure to cast its spell over anyone who sees it.

Call us on 015394 33845 to book a Movie Deal or book tickets only online!