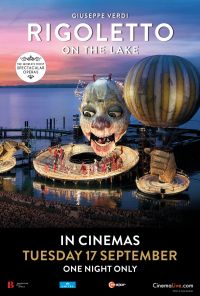 Rigoletto on the Lake
Tuesday, 17th September 2019 at 8.00pm

The court jester Rigoletto jokes about the licentious ways of his master the duke, whom he actively supports in his various conquests. His laughter incenses Monterone, whose daughter has been dishonoured by the duke, and it sticks in his throat when Monterone curses him. Without realising it, Rigoletto becomes an accomplice in the kidnapping of his own daughter Gilda, whom he protectively keeps confined to the house. She sees the duke's advances as a chance to escape from her father's custody. Rigoletto engages a murderer to put an end once and for all to the duke's egotistical philandering. But when Rigoletto is about to throw the shrouded body into the water, he hears the duke singing his cynical credo "La donna è mobile" and fears for his daughter's life …

Giuseppe Verdi's masterpiece – compelling, blood-curdling and beautiful – is being performed for the first time on the Bregenz lake stage.

The stage director and designer Philipp Stölzl will highlight the striking contrasts between spectacle and intimate chamber drama in his production of Verdi's opera. Alongside the circus-like palace festivities, the daring abduction and the terrifying storm at night there are moving scenes between father and daughter, and between Gilda and the duke.

The chance to direct opera on the lake stage is the fulfilment of a long cherished dream for Stölzl. He made a name for himself with music videos for the German band Rammstein, and has gone on to make movies, creating breathtaking scenes in North Face, The Physician and most recently Winnetou. As an opera director he has staged successful productions at the Salzburg Festival, Theater an der Wien and the Staatsoper in Berlin and Dresden.

Call us on 015394 33845 to book a Movie Deal or book tickets only online!