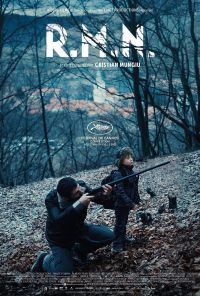 R.M.N.
Rated 15
127 mins 2D Digital Drama Adults £8.00 Evening £9.00
Synopsis
This film is subtitled.

A few days before Christmas, having quit his job in Germany, Matthias returns to his multi-ethnic Transylvanian village. He wishes to involve himself more in the education of his son, Rudi, left for too long in the care of his mother, Ana, and to rid the boy of the unresolved fears that have taken hold of him. He's preoccupied with his old father, Otto and also eager to see his ex-lover, Csilla. When a few new workers are hired at the small factory that Csilla manages, the peace of the community is disturbed, underlying fears grip the adults, and frustrations, conflicts and passions erupt through the thin veneer of apparent understanding and calm.
Content Advisory: strong language, discrimination, nudity, sex references, sexual threat
First UK Showing: 22nd September 2023
If you wish to book a movie deal for this film, please do not book online, but call us on 015394 33845.