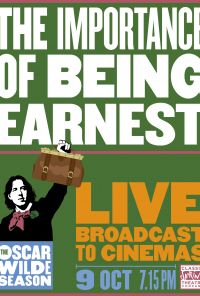 Oscar Wilde LIVE: The Importance of Being Earnest
Tuesday 9th October at 7.15pm

A new production of one of the funniest plays in English, Oscar Wilde's The Importance of Being Earnest, will be broadcast live to cinemas from the Vaudeville Theatre in London's West End. Wilde's much-loved masterpiece throws love, logic and language into the air to make one of theatre's most dazzling firework displays. Jack, Algy, Gwendolyn and Cecily discover how unsmooth runs the course of true love, while Lady Bracknell keeps a baleful eye on the mayhem of manners. This is the fourth and final play from the Oscar Wilde Season, a year-long celebration of the brilliant Victorian playwright being staged by the Classic Spring Theatre Company.

Call us on 015394 33845 to book a Movie Deal or book tickets only online!