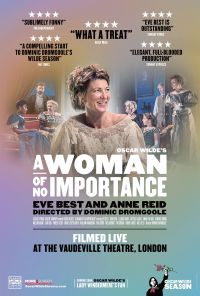 Oscar Wilde ENCORE Season: A Woman of No Importance
Wednesday 23rd January 2019 at 8.00pm

Oscar Wilde Encore Season - Wilde Wednesdays

Olivier award-winner Eve Best (A Moon for the Misbegotten and Hedda Gabler) and BAFTA-nominated actress Anne Reid (Last Tango in Halifax) star in this new classically staged production of Oscar Wilde's comedy directed by Dominic Dromgoole, former Artistic Director of Shakespeare's Globe. The first play from the Classic Spring Theatre Company's Oscar Wilde Season, A Woman of No Importance was filmed live at the Vaudeville Theatre in London's West End especially for the cinema screen.

An earnest young American woman, a louche English lord, and an innocent young chap join a house party of fin de siècle fools and grotesques. Nearby a woman lives, cradling a long-buried secret. First performed in 1893, Oscar Wilde's marriage of glittering wit and Ibsenite drama satirised the socially conservative world of the Victorian upper-class, creating a vivid new theatrical voice which still resonates today.

Call us on 015394 33845 to book a Movie Deal or book tickets only online!