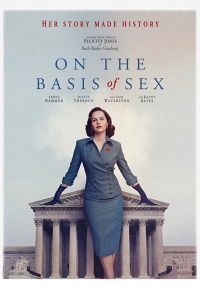 On the Basis of Sex
Rated 12A
120 mins 2D Digital Biography Adults £8.00 Concessions £7.00 Evening £9.00
Synopsis
ON THE BASIS OF SEX is inspired by the true story of a young Ruth Bader Ginsburg – then a struggling attorney and new mother – who faces adversity and numerous obstacles in her fight for equal rights throughout her career.

When Ruth takes on a ground-breaking tax case with her husband, attorney Martin Ginsburg, she knows it could change the direction of her career and the way the courts view gender discrimination. The film also chronicles the storybook-like romance between Ruth and Marty, a partnership that succeeded both personally and professionally.
Content Advisory: Infrequent strong language
First UK Showing: 22nd February 2019
If you wish to book a movie deal for this film, please do not book online, but call us on 015394 33845.