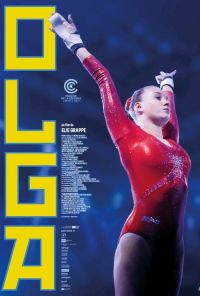 Olga : UK CINEMAS IN SUPPORT OF UKRAINE FUNDRAISER
Rated 15
86 mins 2D Digital Drama Adult £10.00 Movie Deal £30.00
Synopsis
UK cinemas have come together in support of Ukraine with a series of preview charity screenings of Olga, a new film about a young female Ukrainian gymnast forced to train in exile.

From each ticket sold, a donation will be made to the Disasters Emergency Committee and their ongoing humanitarian support efforts in Ukraine.

The previews are a result of a partnership from 606 Distribution and the BFI, with support from the UK Cinema Association.

Fifteen-year-old Ukrainian gymnast Olga, exiled in Switzerland, is trying to fit in with her new team in her new home. But as she prepares for the European Championship, the Ukrainian people stage a revolution.

Olga is left a powerless, distant bystander as her mother, an investigative journalist, faces danger as she challenges a brutal regime.

Can Olga reconcile her personal goals with the history unfolding in her homeland?

This film is subtitled.
Content Advisory: strong language
First UK Showing: 3rd June 2022
If you wish to book a movie deal for this film, please do not book online, but call us on 015394 33845.