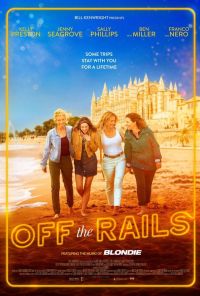 Off the Rails
Rated 15
94 mins 2D Digital Comedy Adults £8.00 Evening £9.00
Synopsis
A dying wish from their best friend, Anna (Andrea Corr), compels Cassie (Kelly Preston), Kate (Jenny Seagrove), and Liz (Sally Phillips), to put old feuds aside and take her 17-year-old daughter on an interrailing journey across Europe that they did not quite finish during their studies. Now in their fifties, they are older but not necessarily wiser. With some bad luck, train strikes and romantic entanglements thrown in their way, the trip promises as many laughs and tears and self-discovery as the first time around. The question is: will they reach their destination in time to honour their friend's memory?
Content Advisory: strong language
First UK Showing: 23rd July 2021
If you wish to book a movie deal for this film, please do not book online, but call us on 015394 33845.