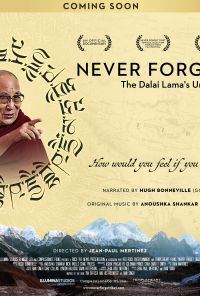 Never Forget Tibet
Rated PG
98 mins 2D Digital Documentary Adults £8.00 Concessions £7.00 Evening £9.00
Synopsis
Dr Deepak Chopra, New York Times best selling author and long time friend of His Holiness Dalai Lama, has provided a special meditation for World Peace to celebrate the theatrical release of this historic documentary, which will be shown before the film.

This additional meditation piece runs for 8 minutes and is a prelude to the main feature.

One of the most significant moments in 20th Century history, His Holiness 14th Dalai Lama reveals the details of his incredible escape into exile for the first time on film in his own words with the Indian political officer who led him to safety. Featuring the Tibetan community in exile and those with historic ties to Tibet, the film explores the Dalai Lama's compassion for a world seemingly in crisis today and seeks to find what can be learnt from his inspirational life story, Tibetan culture and its ancient spirituality.
If you wish to book a movie deal for this film, please do not book online, but call us on 015394 33845.