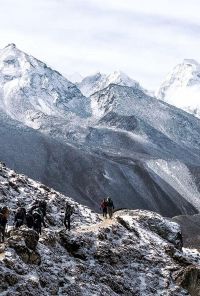 My Everest
Not Rated
120 mins 2D Digital Documentary Adults £8.00 Evening £9.00
Synopsis
A disabled man is on a mission to defy expectations. Bringing together a motley crew of friends, he decides to take on his biggest challenge yet: to trek to Everest Base Camp on horseback to prove his self-worth.

Yet as the reality of his world-first trek hits, putting his body through incredible pain, he is forced to dive deeper into himself and question his original motivations.

With the love and support of his partner, he's able to conquer Everest and come back home with the confidence to question why he had to prove anyone wrong in the first place. Still living with the pain of the mountain, he finds the self-worth he was always looking for, in his relationship with his partner, and their new family.
If you wish to book a movie deal for this film, please do not book online, but call us on 015394 33845.