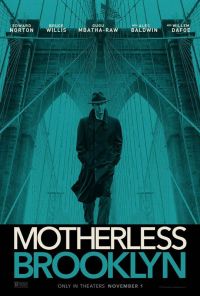 Motherless Brooklyn
Rated 15
144 mins 2D Digital Crime Adults £8.00 Evening £9.00
Synopsis
Set against the backdrop of 1950s New York, "Motherless Brooklyn" follows Lionel Essrog (Norton), a lonely private detective afflicted with Tourette's Syndrome, as he ventures to solve the murder of his mentor and only friend, Frank Minna (Willis). Armed only with a few clues and the powerful engine of his obsessive mind, Lionel unravels closely-guarded secrets that hold the fate of the whole city in the balance. In a mystery that carries him from gin-soaked jazz clubs in Harlem to the hard-edged slums of Brooklyn and, finally, into the gilded halls of New York's power brokers, Lionel contends with thugs, corruption and the most dangerous man in the city to honor his friend and save the woman who might be his own salvation.
Content Advisory: Strong language, violence, drug misuse
First UK Showing: 6th December 2019
If you wish to book a movie deal for this film, please do not book online, but call us on 015394 33845.