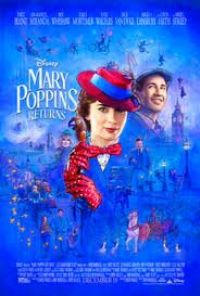 Mary Poppins Returns
Rated U
130 mins 2D Digital Musical Adults £8.00 Concessions £7.00 Evening £9.00
Synopsis
The film is set in 1930s depression-era London (the time period of the original novels) and is drawn from the wealth of material in PL Travers' additional seven books. In the story, Michael (Whishaw) and Jane (Mortimer) are now grown up, with Michael, his three children and their housekeeper, Ellen (Walters), living on Cherry Tree Lane. After Michael suffers a personal loss, the enigmatic nanny Mary Poppins (Blunt) re-enters the lives of the Banks family, and, along with the optimistic street lamplighter Jack (Miranda), uses her unique magical skills to help the family rediscover the joy and wonder missing in their lives. Mary Poppins also introduces the children to a new assortment of colorful and whimsical characters, including her eccentric cousin, Topsy (Streep).
Content Advisory: Very mild threat
First UK Showing: 21st December 2018
If you wish to book a movie deal for this film, please do not book online, but call us on 015394 33845.