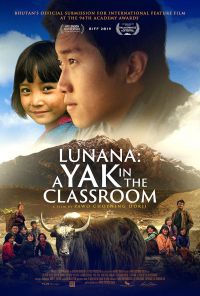 Lunana: A Yak In The Classroom
Rated PG
110 mins 2D Digital Drama Adults £8.00 Concessions £7.00 Evening £9.00
Synopsis
In this enchanting Oscar-nominated drama, a daydreaming but discontented young teacher is posted to Lunana, a remote village high in the Himalayan mountains.

There, he is disheartened to find a simple yak herding community lacking basic amenities such as electricity or even a blackboard in its school classroom. But the enthusiasm of his young students and the unassuming warmth of the village folk buoy his spirits and he must decide whether to return to the city before the gruelling winter sets in or remain in this strange and captivating land.

Beautifully photographed in extraordinary Bhutanese mountain locations, Pawo Choyning Dorji's acclaimed debut feature gives a fascinating insight into a region rarely seen on screen.
Content Advisory: infrequent mild bad language
First UK Showing: 10th March 2023
If you wish to book a movie deal for this film, please do not book online, but call us on 015394 33845.