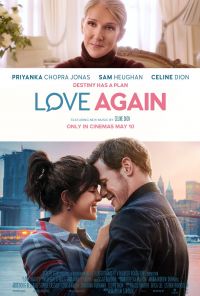 Love Again
Rated 12A
104 mins 2D Digital Comedy Adults £8.00 Concessions £7.00 Evening £9.00
Synopsis
What if a random text message led to the love of your life? In this romantic comedy, dealing with the loss of her fiancé, Mira Ray sends a series of romantic texts to his old cell phone number… not realising the number was reassigned to Rob Burns' new work phone. A journalist, Rob is captivated by the honesty in the beautifully confessional texts. When he's assigned to write a profile of megastar Celine Dion (playing herself in her first film role), he enlists her help in figuring out how to meet Mira in person…and win her heart.
Content Advisory: infrequent strong language, moderate sex references
First UK Showing: 10th May 2023
If you wish to book a movie deal for this film, please do not book online, but call us on 015394 33845.