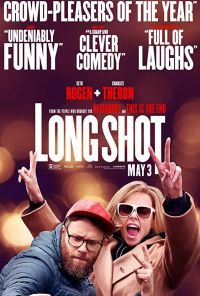 Long Shot
Rated 15
125 mins 2D Digital Comedy Adults £8.00 Evening £9.00
Synopsis
Charlotte Field (Charlize Theron) is one of the most influential women in the world. Smart, sophisticated, and accomplished, she's a powerhouse diplomat with a talent for…well, mostly everything. Fred Flarsky (Seth Rogen) is a gifted and free spirited journalist with a self-destructive streak. The two have nothing in common, except that she was his baby sitter and first crush. When Fred unexpectedly reunites with Charlotte, he charms her with his self-deprecating humor and his memories of her youthful idealism. As she prepares to make a run for the Presidency, Charlotte impulsively hires Fred as her speechwriter, much to the dismay of her trusted advisors.

A fish out of water on Charlotte's elite team, Fred is unprepared for her glamourous and high stakes lifestyle. However, sparks fly as their unmistakable chemistry leads to a round-the-world romance that becomes embroiled in a series of dangerous and outlandish incidents.
Content Advisory: strong language, sex references, sex, drug misuse
First UK Showing: 3rd May 2019
If you wish to book a movie deal for this film, please do not book online, but call us on 015394 33845.