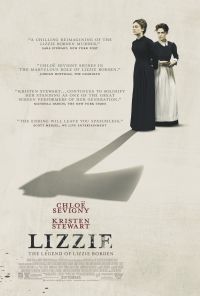 Lizzie
Rated 15
105 mins 2D Digital Biography Adults £8.00 Evening £9.00
Synopsis
LIZZIE is a compelling psychodrama based on the infamous 1892 axe murder of the Borden family in Fall River, Massachusetts. The film explores Lizzie Borden's life, focusing on the period leading up to the murders and their immediate aftermath – and reveals many layers of the strange, fragile woman who stood accused of the brutal crime.

As an unmarried woman of 32, and a social outcast, Lizzie (Chloë Sevigny) lives a claustrophobic life under her father's cold and domineering control. When Bridget Sullivan (Kristen Stewart), a young maid, comes to work for the family, Lizzie finds a sympathetic, kindred spirit, and a chance intimacy that blossoms into a wicked plan , and a dark, unsettling end.
Content Advisory: Strong violence, bloody injury detail, infrequent very strong language
First UK Showing: 14th December 2018
If you wish to book a movie deal for this film, please do not book online, but call us on 015394 33845.