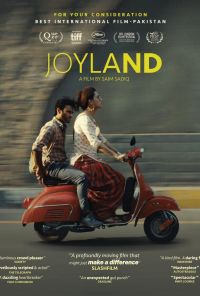 Joyland
Rated 15
127 mins 2D Digital Drama Adults £8.00 Evening £9.00
Synopsis
Please note the Tuesday 7th March screening includes a Q&A between director Saim Sadiq and journalist Ashanti Omkar.

In the heart of the metropolitan yet conservative city of Lahore lives the Rana family, a lower middle class joint family comprising of the old patriarch, the elder son and pregnant wife with three daughters, and the youngest son Haider and his wife Mumtaz. As the Rana's eagerly anticipate the birth of a baby boy to continue their family line, Haider secretly takes up a job as a background dancer at an erotic theatre where he is drawn to an ambitious trans starlet, Biba. Slowly yet suddenly, Haider and Biba are engulfed in a secret summer romance which surreptitiously takes over his home, unraveling the dichotomy between desire and morality for the entire Rana family.
Content Advisory: very strong language, strong sex, discrimination, suicide
First UK Showing: 24th February 2023
If you wish to book a movie deal for this film, please do not book online, but call us on 015394 33845.