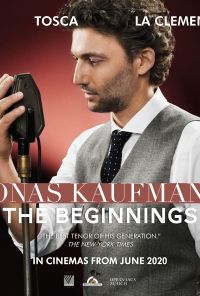 Jonas Kaufmann - The Beginnings - TOSCA
Tuesday 23rd November 8pm

Giacomo Puccini's Tosca is melodrama at its purest, a festival of lush melodies and dramatic outbursts that remains one of this composer's most popular works to this day. It is also a genuine "action opera," a realistic crime story, complete with torture, betrayal, murder, sex and suicide. And in the production from the Zurich Opera presented here, it is a gripping, heart-stopping psychosexual study of three tragically and fatally interwoven figures.

Confirming his exceptional position as one of the most versatile, sensitive, warmly lyrical tenors of our day is Jonas Kaufmann as Cavaradossi. Whether indulging in playful banter, bristling with passionate indignation or glowing with romantic ardor, Kaufmann is always comfortable in his masculinity and unfailingly assured in his shaping of his part's every nuance. The press was unanimous in praising his "darkly hued, dazzling and robust tenor … Puccini lyricism with a wealth of shadings practically unknown since di Stefano and Callas" (Badische Zeitung). Never before has the warhorse "E lucevan le stelle" been interpreted with such intimate, heart-rending poignancy as when Kaufmann bares his soul to a hushed audience in an account that makes time stand still.