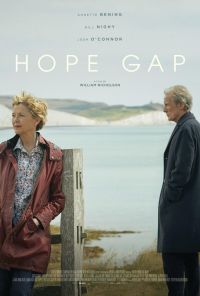 Hope Gap
Rated 12A
101 mins 2D Digital Drama Adults £8.00 Concessions £7.00 Evening £9.00
Synopsis
Grace (Annette Bening) and Edward (Bill Nighy), married for 29 years, live in a small seaside town near a cove under the cliffs called Hope Gap. When their son Jamie (Josh O'Connor) comes to visit for the weekend, Edward informs him that he plans to leave Grace, that same day.

HOPE GAP tracks the unravelling of three lives, through stages of shock, disbelief and anger, to a resolution of sorts.

There are no villains; only good people who've lived too long with old mistakes and are now paying the price. There are no easy answers, and no simple paths to redemption. A husband, a wife, a son are forced to face hard truths, and out of those truths to fashion new lives. In the end, HOPE GAP is a story of survival.
Content Advisory: Infrequent strong language, suicide references
First UK Showing: 28th August 2020
If you wish to book a movie deal for this film, please do not book online, but call us on 015394 33845.