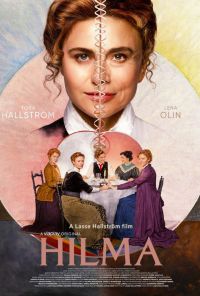 Hilma
Rated 12A
119 mins 2D Digital Biography Adults £8.00 Concessions £7.00 Evening £9.00
Synopsis
Hallström, known for the classic films The Cider House Rules, My Life As A Dog, What's Eating Gilbert Grape? and Chocolat returns to the big screen with this affecting drama, based on the life of the abstract artist Hilma af Klint (1862-1944).

The film explores the enigmatic life - and loves - of af Klint (1862-1944), whose unconventional and highly spiritual art remained relatively unknown for decades.

It tells the story of an unwavering search for the truth about humanity and the universe through art, at a time when men made all the rules.

Today af Klint is recognised as one of the Western world's first abstract artists, an achievement made even more impressive by the male-dominated artistic scene that surrounded her.
Content Advisory: moderate bloody images, upsetting scenes, rude humour
First UK Showing: 28th October 2022
If you wish to book a movie deal for this film, please do not book online, but call us on 015394 33845.