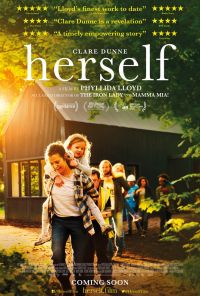 Herself
Rated 12A
97 mins 2D Digital Drama Adults £8.00 Concessions £7.00 Evening £9.00
Synopsis
Sandra (Dunne), on the surface of it, is a young Mum struggling to provide her two young daughters with a warm, safe, happy home to grow up in. Beneath the surface, Sandra has a steely determination to change their lives for the better and when it becomes clear that the local council won't provide that home, she decides to build it herself from scratch.

With very little income to speak of and no savings, Sandra must use all her ingenuity to make her ambitious dream a reality. At the same time, she must escape the grip of her possessive ex-husband and keep him away from her and her girls. The lionhearted Sandra draws together a community of friends to support her and lend a helping hand and it is the kindness and generosity of these people and the love of her young daughters that help rebuild her own strength and sense of self.
Content Advisory: domestic abuse, very strong language
First UK Showing: 10th September 2021
If you wish to book a movie deal for this film, please do not book online, but call us on 015394 33845.