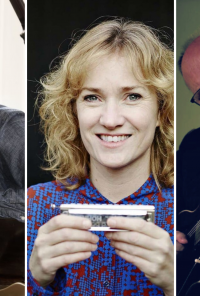 Gwilym Simcock, Mike Walker and Hermine Deurloo
Zeffirellis is thrilled to welcome Gwilym Simcock, Mike Walker and Hermine Deurloo back for another concert in Zeffirellis main auditiorium on the 30th of October at 8pm.

Gwilym Simcock has carved out a career as one of the most gifted pianists and imaginative composers on the European scene. He moves effortlessly between jazz and classical music, with a 'harmonic sophistication and subtle dovetailing of musical traditions'. Gwilym has been hailed as a pianist of 'exceptional', 'brilliant' and 'dazzling' ability, and his music has been widely acclaimed as 'engaging, exciting, often unexpected, melodically enthralling, complex yet hugely accessible', and above all 'wonderfully optimistic'.

Hermine Deurloo is a jazz chromatic harmonica player from Amsterdam. She has performed all over the world and has recorded several albums. Her most recent features Steve Gadd, Kevin Hayes, and Tony Scherr. In 2018, she was awarded the Bernie Bray Harmonica Player of the year award.

Mike Walker's passion for guitar was heavily influenced by his own interest in jazz but flavoured by a broad spectrum of genres across the musical spectrum. Mike plays in The Printmakers with Nikki Iles, Norma Winstone, Mark Lockhart, James Maddren and Steve Watts, and has also been busy composing and touring with The Impossible Gentlemen, a group he co-leads with Gwilym Simcock, They have released 3 albums and in 2013 the group were named 'Best Jazz Ensemble' at the Parliamentary Jazz Awards.