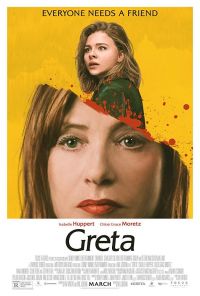 Greta
Rated 15
99 mins 2D Digital Drama Adults £8.00 Evening £9.00
Synopsis
A sweet, naïve young woman trying to make it on her own in New York City, Frances (Chloë Grace Moretz) doesn't think twice about returning the handbag she finds on the subway to its rightful owner. That owner is Greta (Isabelle Huppert), an eccentric French piano teacher with a love for classical music and an aching loneliness. Having recently lost her mother, Frances quickly grows closer to widowed Greta. The two become fast friends — but Greta's maternal charms begin to dissolve and grow increasingly disturbing as Frances discovers that nothing in Greta's life is what it seems in this suspense thriller from Academy Award®-winning director Neil Jordan.
Moretz and Huppert are joined by co-stars Maika Monroe, Colm Feore, Stephen Rea. Neil Jordan directs a script he co-wrote with Ray Wright. The film is produced by Sidney Kimmel, John Penotti, James Flynn, Lawrence Bender, Karen Richards and will be distributed by Universal Pictures.
Content Advisory: Strong threat, violence, injury detail
First UK Showing: 19th April 2019
If you wish to book a movie deal for this film, please do not book online, but call us on 015394 33845.