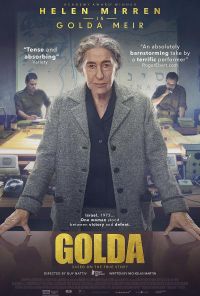 Golda
Rated 12A
100 mins 2D Digital Biography Adults £8.00 Concessions £7.00 Evening £9.00
Synopsis
Golda, a ticking-clock thriller sharing the intensely dramatic events, high-stake responsibilities, and controversial decisions that Meir – also known as the 'Iron Lady of Israel' – faced during the Yom Kippur War in 1973. Her actions, in impossible circumstances, would ultimately decide the fate of millions of lives.
Content Advisory: moderate war violence, injury detail, references to racism
First UK Showing: 6th October 2023
If you wish to book a movie deal for this film, please do not book online, but call us on 015394 33845.