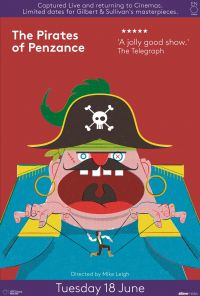 ENO: The Pirates Of Penzance (encore)
Tuesday, 18th June 2019 at 8.00pm

Not one, but TWO of Gilbert & Sullivan's phenomenal shows! The Pirates of Penzance, directed by Mike Leigh, broke box office records in the UK when it was first screened in 2015, and it is great entertainment for the whole family. The Mikado, directed by Jonathan Miller, brings a quintessentially English flavour to this Gilbert & Sullivan opera.

It has been four years since these very successful ENO operas appeared in cinemas and we are proud to present this short Gilbert & Sullivan season. U.K. screenings of The Pirates of Penzance on Tuesday 18th June 2019 and The Mikado on Tuesday 2nd July 2019

Call us on 015394 33845 to book a Movie Deal or book tickets only online!