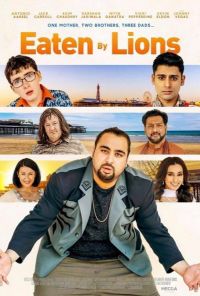 Eaten By Lions
Rated 12A
95 mins 2D Digital Comedy Adults £8.00 Concessions £7.00 Evening £9.00
Synopsis
Omar and Pete are half brothers. When their parents are eaten by lions they embark on a journey to find Omar's real father. What follows is a funny, heart-warming journey of self-discovery for both boys...in Blackpool. The Choudray family represents a truly contemporary example of modern multicultural Britain - but what will the brothers make of their eccentric newfound family? Will they be going to Mecca or Mecca bingo? In contrast to the old fashioned stereotypes about Blackpool, the comedy is sharp, current and non-stop.
Content Advisory: Infrequent strong language, moderate sex references
First UK Showing: 29th March 2019
If you wish to book a movie deal for this film, please do not book online, but call us on 015394 33845.